Key dates for Brazil Serialization
28-April-2022: Deadline for implementation of serialization for all products and reporting to the national drug control system - Sistema Nacional de Controle de Medicamentos(SNCM).
Requirements for April 2022 implementation
All prescription medicines must be serialized (except: Free samples, medicines used for Government purposes like vaccines and serum, phytotherapic, dynamized medicines and radiopharmaceuticals).
All importers and manufacturers must have a "serialization plan" in the SNCM portal.
All product event reports must be submitted by supply Chain stakeholders to SNCM.
Introduction to Brazil Serialization
Being one of the largest economies in Latin America, Brazil will join Russia, the EU, and many other countries for mandating serialization in its pharma supply chain in April 2022. Brazil's legislation has had a complex set of requirements for putting into effect their serialization and reporting processes in order to achieve complete compliance. Post the pilot phase in 2017-2018, the Brazilian industry has grown and matured which has also impacted the legislation. The Brazilian Health Regulatory Agency (ANVISA) is planning on implementing a thorough nationwide serialization solution and its regulations are planned to go into effect by April 2022.
ANVISA(Brazilian Health Regulatory Agency)
Back in 2016, ANVISA signed the National Medicine Control System (SNCM) into law (Law No. 13.410). It established the serialization requirements and timelines for the entire Brazil pharmaceutical supply chain. Brazil's serialization requirements are being implemented in four phases.
Phase 1- Regulation phase went into effect from December 2016.

Phase 2- Experimental phase went effective from September 2017, which marked the beginning of a 1-year pilot phase.

Phase 3- Evaluation Phase, lasted from September 2018 through May 2019, included a pilot review and the finalization of technical guidelines.

Phase 4- Implementation Phase was set from April 2019 to April 2022 and included unit-level serialization implementation.
The set regulations established by Brazilian Drug Control System – SNCM must be followed by all pharma companies that are manufacturing or even importing goods to Brazil.
Product Identification and Data Capturing Requirements
The mechanisms and procedures for drug tracing, recognized by Law No. 11,903, dated January 14, 2009, are established within the scope of the National Drug Control System (SNCM), by means of capture technology, Storage, and electronic transmission of data, throughout the pharmaceutical chain in the national territory to protect Brazil's 212.6 million citizens against common problems in the drug supply chain, including counterfeit drugs and cargo theft.
Aggregation
Aggregation for Brazilian serialization will be implemented by a unique identifier; provided by Unique Medicine Identifier (IUM) for every individual package and for transport package; an identifier provided by IET (Identificador de Embalagem de Transporte) must be applied and linked to respective IUMs and presented in 2D QR code.

Every transport package containing at least one medicinal product included in the SNCM experimental phase from the registration holder's dispatch event instance must have a unique identifier code that allows the relationship with the IUM of the medicinal products contained therein.

It is prohibited to repeat the serial code between units of the same drug arrangement.

The SNCM requires unit-level serialization, tracking & tracing products and monitoring environmental conditions as products move through the supply chain.
Secondary and tertiary packaging
The mechanisms and procedures for drug tracing recognized by Law No. 11,903 dated 14 January 2009 are established within the scope of the National Drug Control System (SNCM) by means of capture technology, storage and electronic transmission of data throughout the pharmaceutical chain in the national territory.

The two-dimensional bar code is the technology for the capture and storage of instances of events necessary for drug tracing within the SNCM.

The two-dimensional code standard adopted is DataMatrix.

The GS1 DataMatrix bar code symbol should encode at least the following data that makes up the IUM (Unique Medicine Identification) in the following order:

I ‐ GTIN ‐ Global Trade Item Number

II ‐ ANVISA Medicine Registry Number

III ‐ Serial Number

IV ‐ Expiration Date

V ‐ Lot / Batch Number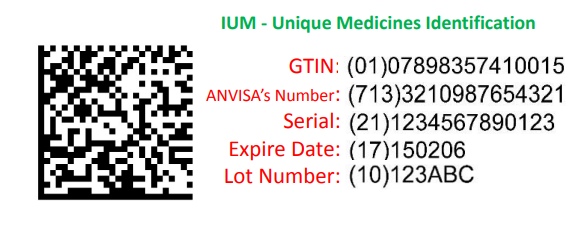 Data Storage and reporting
Reporting requirements for Brazil are less complex than other countries like Russia (MDLP) or Saudi Arabia.

There will need to be reporting to a centralized repository which is a mandate for commissioning, aggregation, supply chain (shipping and receiving), and destruction.

The reporting will need to be done in a horizontally, chronological order for an MAH within 3 business days after the occurrence has been reported of the event.

To report by uploading, a user will need to either upload a CSV file manually through a web interface or upload EPCIS XML files using webservices.

The Brazilian Drug Control System will have a database centralized in a Federal Government institution, for storage and consultation on the movement of drugs under its responsibility.
Our entire team at CosmoTrace has kept up with all the changing updates and is aware as well as equipped to navigate through the relevant requirements. Our goal is to help manufacturers operating in the Brazilian market achieve SNCM compliance. We can assist your business prepare for all the upcoming deadlines till May 2022 with complet Serialization Project Management and Implementation. If you have questions or would like to know more about the SNCM regulations, just get in touch and we can assist.
Disclaimer
This information is being provided 'As Is' with no claims of suitability for a particular purpose. It represents just one possible interpretation of information available in the public domain or through membership organizations, and that interpretation is subject to change. This information does not constitute legal advice. Users must refer to the source material for the complete requirements and form their own interpretation before making business decisions. Please use the references below to follow the updates at the source.
References
**Law: 2009-11-903, modified in Law: 2016-13-410
Please visit ANVISA's site for more detailed information:
http://portal.anvisa.gov.br/rastreabilidade
About CosmoTrace
CosmoTrace was formed by an expert, experienced team that has since worked extensively with every part of the pharmaceutical supply chain from manufacturing through to final distribution. As Serialization Consulting Experts, our focus is on delivering the absolute best serialization support by offering long-term serialization and sustainability strategies and providing forward-thinking industry solutions.
We offer premium support and services that can help your business with serialization implementation. Our team of experts ensure that you are up to date with all global traceability regulations and will help in creating a successful long-term serialization strategy.
To learn more about CosmoTrace visit www.cosmotrace.com. Follow us on LinkedIn and Twitter for Serialization and industry related updates.