Key dates in Canada:
For Manufacturers – 31st Dec 2021 – 31st Dec 2023 – Serialization implementation timeline, it is not mandatory but encouraged to do so by 31st Dec 2023.
For Distributors – 31st Dec 2023 – GS1 data matrix including serial number field is encouraged to be implemented.
For Pharmacies – 31st Dec 2025 – Serialization to be implemented.
Introduction
Canada is moving forward to align with the global standard for the adoption of 2D barcodes (GS1 DataMatrix) on pharmaceutical products. Patient safety, best practices in dispensing to patient record workflow, along with improvements to supply chain traceability capabilities are the strategic imperatives driving this movement. GS1 Canada's Pharmacy Board has approved the pharmaceutical barcoding adoption roadmap detailing readiness expectations of relative stakeholders - manufacturers, distributors, and pharmacies.
Concerns for safety have given rise to the urgent and strategic request for greater supply chain visibility capabilities enabled through global standards, including barcodes. With the reality that medical errors are the third leading cause of death in North America, combined with the COVID-19 crisis exposing the vulnerabilities linked to significant lack of visibility in the supply chain and resulting challenges with drug shortages, the pharmacy community is advancing a pharmaceutical barcoding implementation action plan and a corresponding government relations strategy.
Canada's goal is to only to implement one GS1 DataMatrix barcode on the pharmaceutical products at both the primary and secondary packaging level. The current plan is to support data synchronization to the patient record by assigning a GTIN, lot number and expiry date to each pharmaceutical product keeping serial number as an optional field. However, the pharmaceutical companies are encouraged to implement serial numbers to each packaging hierarchy level along with the suitable DataMatrix barcode to facilitate the tracing of products.
Discussions about the global movement towards 2D barcodes for consumer goods and foods are underway, and readiness timelines are expected to extend beyond 2025. Canadian timelines will be established through GS1 Canada's community management process. Should manufacturers of BTCs, OTCs, NHPs, and medical devices wish to voluntarily adopt GS1 DataMatrix in advance of the pending global timelines, then manufacturers are encouraged to prioritize those products with the potential to be dispensed due to a prescription (for example, some shampoos, OTCs, and diabetes test strips can be prescribed and dispensed or administered while in hospital or Long-Term Care). Additionally, manufacturers are encouraged to follow the GS1 DataMatrix Roadmap for product samples. Samples which have the potential to be recalled or to be dispensed in a clinic or hospital setting require traceability, therefore, benefit from effective barcoding.
Product Identification
To facilitate the visual correct reading control together with a two-dimensional bar code is applied Human-Readable Information (HRI), which includes the following elements:
Global Trade Item Number (GTIN)




Batch or Lot Number

Expiry Date

Randomized Serial Number (optional)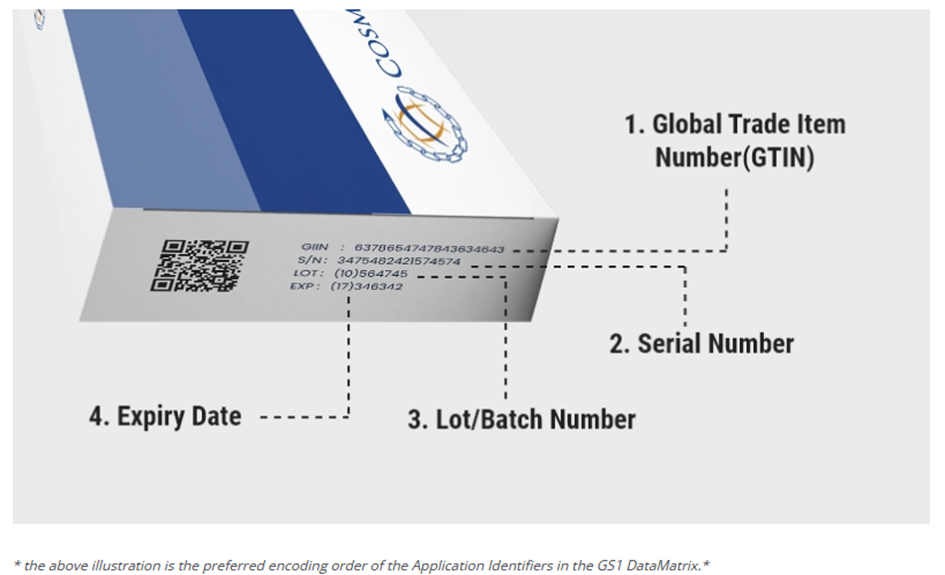 To support the transition period for distributors and pharmacies, two barcodes are recommended at the saleable unit (linear & DataMatrix); except for products whereby a barcode does not exist today or where there is small usable space, a GS1 DataMatrix should be used. It is recognized that the transition to a single GS1 DataMatrix barcode for Behind-the-Counter (BTC), Over the Counter (OTCs), and Natural Health Products (NHPs) will align with the global movement for consumer goods, and in alignment with the Global 2D Migration program.
Medical devices sold at the retail level will also align with the Global 2D Migration program movement for consumer goods.
How can CosmoTrace help?

We provide serialization consulting, implementation & integration services to help our clients with managing the end-to-end serialization projects and preparing them for the existing and upcoming regulations across the globe.
We are well versed with the compliance regulations for various markets and can help you with implementing the Canada pharmaceutical serialization requirements.

Our team of experts strategize and plan end-to-end solutions using a combination of years of knowledge in product serialization, pharmaceutical supply chains, life sciences and brand integrity.
Disclaimer
This information is being provided 'As Is' with no claims of suitability for a particular purpose. It represents just one possible interpretation of information available in the public domain or through membership organizations, and that interpretation is subject to change. This information does not constitute legal advice. Users must refer to the source material for the complete requirements and form their own interpretation before making business decisions. Please use the references below to follow the updates at the source.
References
2D_DataMatrix_Implementation_Roadmap.pdf (gs1ca.org)