Key Upcoming dates in UAE
December 13, 2022: Serialization reporting and onboarding onto Tatmeen
December 13, 2022: Aggregation will be mandated

Introduction
Relating to the latest version of serialization track and trace guidelines by the Ministry of Health and Prevention (MOHAP), the core objectives are to secure products, safety for patients, and visibility in the supply chain. The new serialization guidelines in UAE were adopted to detect counterfeit and falsified drugs, avoid issues relating to the medicinal treatment, forecast drug scarcities, and ensure precise real-time information among all the stakeholders.
Tatmeen
The UAE delegates the validation of these regulations through Tatmeen which is a digital platform for the ministry. Tatmeen is a Next-Generation Track-and-Trace, fully automated paperless drug and medical supplies management system for the UAE Healthcare sector, launched by the Ministry of Health and Prevention (MOHAP) to develop a centralized platform. Tatmeen will be integrated with Salam, which is the (Dubai Health Authority) DHA's electronic medical record system that provides an electronic catalogue and the availability of medical items. This integration will provide a more comprehensive traceability system.
In order to achieve their objectives, Tatmeen has placed some mandatory requirements on all drug manufacturers. For instance, drugs imported or domestically manufactured in the UAE have to have the 2D Matrix Barcodes for tracking for all registered and unregistered drugs. Also, all pharmaceutical companies have to be registered with a GLN (Global Location Number) (refer to GS1 Site). This ensures that Tatmeen has the relevant tools when it comes to monitoring the production activities.

Evoteq, the Tatmeen traceability system operator has published an update to technical specifications for manufacturers, wholesale distributors and for dispensers (https://tatmeen.ae/updates). Evoteq is also in discussion with MOHAP on a possible pilot for the selected MAHs which is currently waiting for the approval from MOHAP.
Tatmeen Website
The ministry of health has made it clear that pharmaceutical companies should not use the information provided by other countries' government sites as Tatmeen is an independent site and has critical laws that are not similar to other countries. However, the pharmaceutical companies should still report to the other governments on issues they had initially agreed on.
Requirements for implementing GS1 standard system
Product Registration
For the registered drugs, all products subject to the UAE MoHAP legislation are initially registered with MoHAP and the registration details are completed. Each product master data is always associated with a single MAH and is assigned to a single Agent. The MAH is considered accountable and responsible for registering the correct product details.
In case of unregistered drugs, the products must be registered in BrandSync prior to arrival into the UAE market.
Master Data Management
What is Master data?
A master data is created when identification data and reference data are linked across multiple systems into a single, consistent point of reference, descriptive information is called master data. This description could be an item (GTIN) or location (GLN).
Descriptive information for a Global Location Number (GLN) might include the street address of the location and its geocoordinates.
A business application typically needs additional descriptive information associated with each identifier.
Legal Entity Registration
All domestic manufacturers, MAHs, Licensing Agents & Distributors involved in the importation of goods and reporting the information to Tatmeen should be registered with the relevant MoHAP department, it is also important for the entities to receive a Global Location Number (GLN) from GS1.
GS1 Standards system
A comprehensive and intelligent solution in the management of medicines and pharmaceutical products. The methods of GS1 traceability are implemented and it is mandatory for pharmaceutical suppliers, agents and companies in UAE to supply pharmaceuticals with barcodes based on 2D Data Matrix and GS1 standards.
GS1 standard system includes Product Identification: GS1 identification number will make it possible to recognize products and locations by assigning unique identification globally. Capturing: capturing data GS1 data carriers provide an array of choices for package types and products. Sharing: efficient sharing of information from trusted and authentic sources with GS1 standards implementation. These are explained in detail below:
Product Identification
All secondary packaging sold, imported, supplied, and produced in UAE must be serialized and barcoded with a GS1 DataMatrix.
The following Application Identifiers must be encoded –

Global Trade Item Number (GTIN)
Batch or Lot Number
Expiry Date
Randomized Serial Number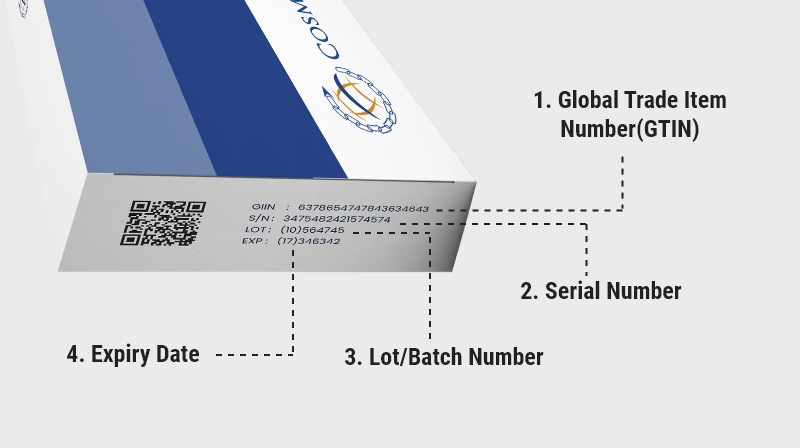 * the above illustration is the preferred encoding order of the Application Identifiers in the GS1 DataMatrix.*

The above are not standalone data elements and must be associated with a GTIN and encoded within the same GS1 DataMatrix.
Logistic units must be identified and aggregated with a GS1-128 barcode. The SSCC (Serial Shipping Container Code) also needs to be encoded in a GS1-128 barcode using AI (00). An example is noted below.
Distributors, wholesalers, and health facilities that unpack and repack products to deliver to points of dispensing are required to aggregate the Logistic Units using their SSCC codes.
Capturing Data
All secondary packaging must be barcoded with a GS1 DataMatrix.
If a linear barcode and a GS1 DataMatrix are present on the secondary packaging, both barcodes need to be encoded with the same GTIN
Human readable interpretation (HRI) refers to the characters, such as letters and numbers, which can be read by humans and are encoded in GS1 AIDC (Automatic Identification Data Capture) data carriers confined to a GS1 standard structure and format.
The barcodes quality measurement processes and minimum quality levels of GS1 General Specifications shall be followed.
To read a GS1 Data Matrix, scanners must be appropriately programmed to read the GS1 barcodes.
Reporting Data
In case the manufacturing is performed within the UAE, the MAH can directly upload the serialized and aggregated information to the authority before releasing the products to the market. Local sales permit for product GTINs intended to be distributed to the UAE market and correct information in the EPCIS file containing serialized & aggregated information are very important for reporting the information to Tatmeen.
However, the process gets more complicated when the products are imported from outside of the UAE market. In that case, the MAH is responsible to report the importation of manufactured pharmaceutical products against a valid Shipping Import Permit for product GTINs intended to be imported to the UAE market along with the suitable records received from all the concerned partners like the Batch releaser, Distributors & 3PLs. This process can be done using a delegated technical partner to conduct the technical level reporting. It is important to start the reporting process by uploading the serialized and aggregated objects before initiating the import clearance and customs release steps. All the serialized pharmaceutical products subject to MoHAP legislation are allowed to enter the UAE market once all the information is uploaded successfully to Tatmeen.
Verification of drugs
The Tatmeen platform enables consumers to verify drugs at the initial point of purchase. All forms of recreational drugs have been banned. The suppliers of these drugs remain accountable for what they provide to the market.
GS1 UAE's Platform – BrandSync
BrandSync is a cloud-based collaboration platform designed to exchange product information and content including the provision of master data operated by GS1 UAE for all existing and new products supplied to UAE. It is required for producers to upload their respective products to BrandSync to ensure all information about the product has been disclosed.
It is a smart platform through which brands and retailers can store, share, enrich, and manage product content and digital assets efficiently all in one place. BrandSync enables collaboration between brands and retailers to ensure the quality of the product data is excellent. It will be the single source of information for all product master data supplied from Tatmeen. Through BrandSync, the product is effectively managed and Tatmeen is able to approve and regulate all activities relating to the product provisioning in the market.
How can CosmoTrace help?

We provide serialization consulting, implementation & integration services to help our clients with managing the end-to-end serialization projects and preparing them for the existing and upcoming regulations across the globe.
We are well versed with the compliance regulations for various markets and can help you with implementing the UAE pharmaceutical serialization requirements.

Our team of experts strategize and plan end-to-end solutions using a combination of years of knowledge in product serialization, pharmaceutical supply chains, life sciences and brand integrity.
Disclaimer
This information is being provided 'As Is' with no claims of suitability for a particular purpose. It represents just one possible interpretation of information available in the public domain or through membership organizations, and that interpretation is subject to change. This information does not constitute legal advice. Users must refer to the source material for the complete requirements and form their own interpretation before making business decisions. Please use the references below to follow the updates at the source.
https://tatmeen.ae/
https://www.gs1.org/
https://www.mohap.gov.ae/en/Pages/default.aspx
Need a helping hand in ensuring smooth operations in your serialization efforts.